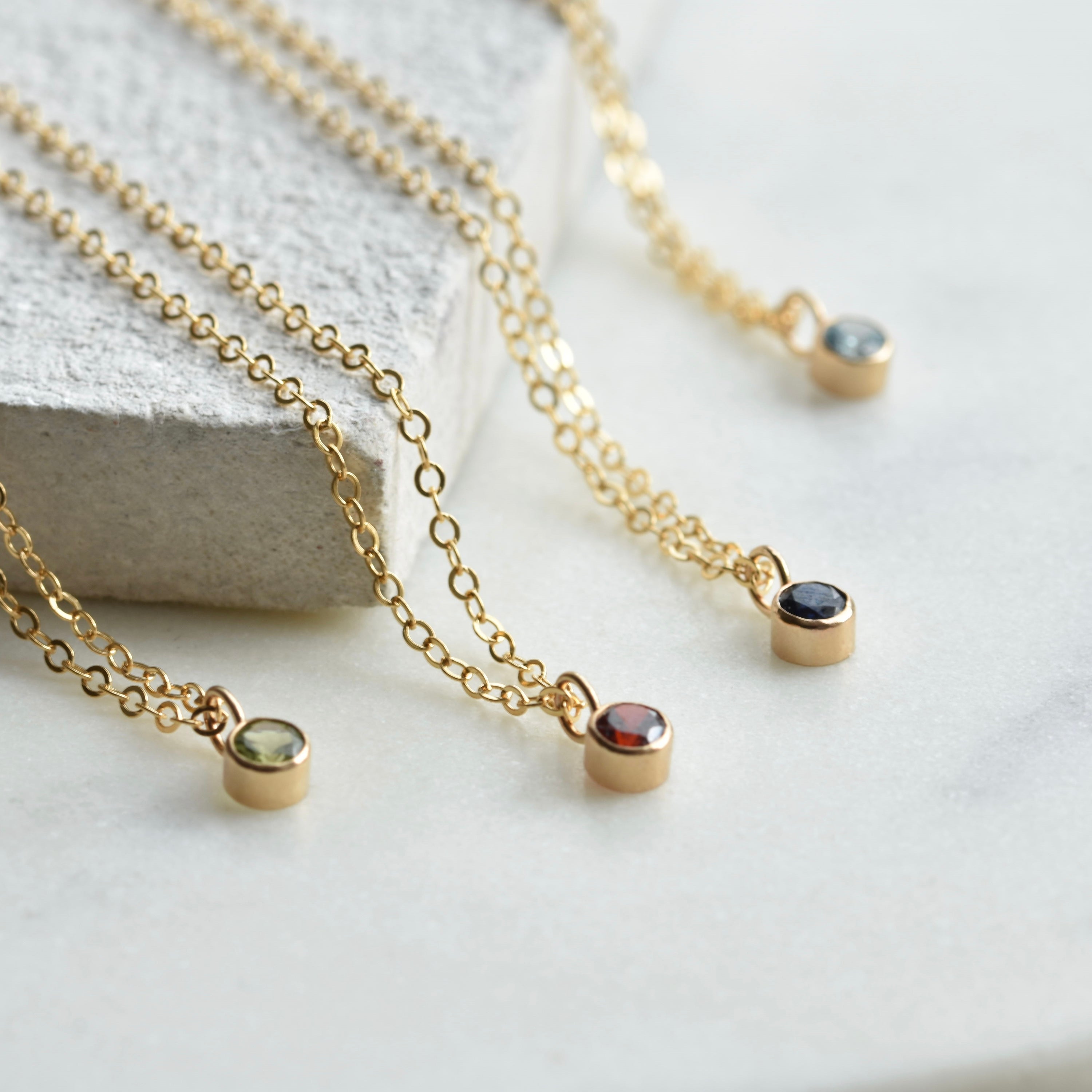 Production time: 3-4 weeks.
Lovingly handcrafted in London, UK.
Description
From the Collection: Genesis
A note from the maker:
"A reminder of life, these birthstone necklaces tell a unique story - a story of cherished moments and newness in life, all encompassed in this timeless piece."
It Features:
4mm size Gemstone
9 carat or 14 carat Yellow Solid Gold
Chain Length: 16 Inches, 18 inches or 20 inches
GEMSTONES:
Garnet
A symbol of love and friendship, Garnet is January's birthstone.
Amethyst
A symbol of peace, purity and wisdom; Amethyst is February's birthstone.
Aquamarine
A symbol of cleansing and letting go; Aquamarine is March's Birthstone.
White Diamond
A symbol of strength; Diamond is April's birthstone.
Emerald
Emerald is May's birthstone.
Moonstone
Moonstone is June's birthstone.
Ruby
Ruby is July's birthstone.
Peridot
Peridot is August's birthstone.
Sapphire
Known as the signature of the Divine, Sapphire is September's birthstone.
October
Opal is October's birthstone
November
Citrine is November's birthstone
Turquoise
Turquoise is December's birthstone.
Storage + Care
Storage: To prevent scratches, store your jewellery in a fabric lined box or the Feathers And Wings puches that come with every ring order.
Wear With Care: Keeping pieces dry and free from contamination is important for the longevity of the metal and gemstone. Be sure to remove your pieces when washing or applying gel and perfume.
Keep The Shine: Owning a soft cloth or polish cloth is a great investment to keep your pieces shiny as if the were brand new. Use one when you noticed grease forming on your pieces.
About Feathers & Wings
Consciously Crafted
Feathers And Wings Fine Jewellery is created with the intention to display beauty, grace and simplicity through a creative medium.
Ethically Made
Based in London UK, metalsmith and maker, Jane Bannor, specialises in gold jewellery, solely crafting each piece by hand.
Bohemian Luxe
A collection of bohemian
luxe pieces with a touch of minimalism; each piece crafted with the F&W woman in mind.
Frequently Asked Questions
Help! I don't know my ring size!
Don't know your size? We are here to help.
We offer various sizes and are here to help you size the right ring. Visit the Intl Ring Sizer Chart Website Here for size conversion: http://www.ringsizes.co/
- OR -
Purchase one of our reusable ring sizers here: UK Ring Sizer
How long will mt order take?
As each piece is handcrafted solely by metalsmith + maker, Jane Bannor, we ask that you allow 3-4 weeks for a shipping notification, whilst Jane carefully crafts your jewellery for you.
Where do you source your gold?
Feathers + Wings' solid gold is sourced from credible UK Suppliers, and every fine jewellery piece is crafted using either recycled or fairtrade (stated in each product description).